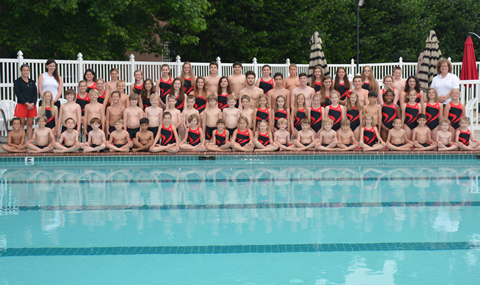 POOL OPERATING SCHEDULE 2021
Update as of 07/14/2021 – The pool is scheduled to be open Monday through Friday 11am to 8pm all through July with the exception of this Friday July 16th when it will be closed due to a lifeguard shortage. This closure does not affect Friday swim team practice. Please know that the board and our management company are continuing to work with the pool company to make sure we stay open for as many days as possible.

Good news is that the pool is on schedule to open Memorial Day weekend! On a less good news note, our pool management company, AAA Pools, is having difficulty in sourcing/employing people to fill their personnel shortages. AAA Pools continues their efforts to recruit/hire personnel. Due to these personnel shortages, pool hours may be restricted as we move forward through the summer months. As of today, the pool will be open as scheduled through 20 June. If personnel shortages remain after 20 June, our pool hours could be impacted, and our pool may operate on a rotational basis (open some weeks, closed some weeks). HOA Management and the Board's goal is to have the pool open as scheduled for the entire pool season. We remain in contact with AAA Pools, and we remain hopeful that the personnel shortages will be filled. To that end, if there are any residents who are looking for summer employment, AAA Pools is hiring. Point of contact at AAA Pools is Leslie Paul, 757-499-5852, aaalifeguards@gmail.com. On a positive note, our Swim Team practice and swim meet schedules will not be impacted! Updates will be provided as more information becomes available. As with this update, all updates will be posted on the Cheshire Forest website, Nextdoor, and FB. Thank you for your patience and consideration.
Pool Information and Pool Rules 2021
The following information and pool rules are for the protection and benefit of all pool patrons. Your cooperation will help maintain a pleasant and safe atmosphere for everyone. Parents are requested to caution their children to observe the rules and to obey the lifeguard's instruction. Lifeguards are asked to enforce these rules to ensure the safety of all. Please keep this information available for future reference.
Points of Contact
Pool Committee members are Jim and Mary Burres, 757-714-0806, jebcw3retired@cs.com
Association Manager is John Kohlman, 757-484-0759, jkohlman@unitedpropertyassociates.com
Pool Operating Schedule The schedule may change due to lifeguard availability.
28 – 31 May
4 – 6 June
11 – 13 June
Fridays: 4:00 PM – 8:00 PM
Saturdays/Sundays: 11:00 AM – 8:00 PM
Monday (Holiday): 11:00 AM – 8:00 PM
15 – 17 June
4:00 PM – 8:00 PM
18 – 20 June
11:00 AM – 8:00 PM
21 June – 6 September (TBD due to lifeguard availability)
11:00 AM – 8:00 PM
10 – 12 September
Friday: 4:00 PM – 8:00 PM
Saturday/Sunday: 11:00 AM – 8:00 PM
FLYING FISH SWIM TEAM
Cheshire Forest is proud to have our own Swim Team, the Flying Fish! For information on joining the swim team, contact the committee members listed below. Please come out and support our Flying Fish!
Please remember there may be a few days and nights when the pool is reserved for our neighborhood swim team. Notice of those closures will be posted in advance.
Swim Team Committee chairperson is Tracy Tucker at 407-963-1094, swimcheshire@gmail.com. More information can be found on their website at www.swimflyingfish.com
POOL ENTRY
Pool passes will not be utilized this year. Instead, there will be a homeowner listing to verify homeowners.
Children, age 5 and younger, must be accompanied by an adult 18 or older.
Children ages 6 to 10 must be accompanied by a responsible person age 14 or older.
POOL GUESTS
Residents bringing guests to the pool will be asked to sign guests in the guestbook at the lifeguard station.
A resident MUST accompany all guests
Adult residents may bring up to 5 guests at one time.
Young adults, ages 11-17, may bring 2 guests at one time.
SEMI-PRIVATE POOL PARTIES
Semi-private pool parties are scheduled 2 weeks in advance with the management company, as additional staffing may be required. Semi-private parties are held during normal pool operating hours and are confined to the pool deck. Due to space limitations during operating hours, no semi-private parties larger than 30 guests will be allowed. Semi-private events will not be allowed to be held in conjunction with community social events, (ie., pizza by the pool, etc.). Cheshire Forest HOA events will have scheduling priority.
Pricing as follows:
Refundable Security Deposit: $100.00
6 to 15 guests: $25 for 2 hours.
Up to 30 guests: $50 for 2 hours.
PRIVATE POOL PARTY
Private pool parties are held outside of normal pool operating hours, from 8:00 pm until 10:00 pm, and must be scheduled 2 weeks in advance of your event with the management company. Please note: if the clubhouse is also rented, no wet clothes are permitted in the clubhouse.
Private parties must be for a minimum of 2 hours and must be staffed by 2 lifeguards. Residents are to contact AAA Pools to hire lifeguards for private events. Lifeguard fees are paid directly to AAA Pools.
Pricing as follows:
Refundable Security Deposit: $100.00
Pool Fee: $40.00
Lifeguard Fees: $25.00 per guard per hour.
A completed Pool Reservation Agreement and the rental fee must be returned to the Manager at least 2 weeks prior to the event to reserve the pool. Pool Reservation Agreement can be obtained from the Association Manager. John Kohlman, 757-484-0759, jkohlman@unitedpropertyassociates.com
SWIM LESSONS
Cheshire Forest's Pool Management Company, AAA Pools, can offer group swim lessons. Please contact AAA Pools at 757-499-5852 for rates and scheduling.
POOL AREA RULES
The pool is for the use of all Cheshire Forest residents and their guests. Your annual Homeowners Association fees help to cover the cost of our pool; therefore, all residents must be current with all fees and dues before use of the pool is authorized.
All persons shall obey the rules, regulations, and instructions of the lifeguards. No person shall use the pool/pool area unless it is officially open and a lifeguard is on duty.
Swim Test. A swim test may be required for any individual who does not appear confident in the water. Lifeguards will administer the test, one on one. Test will include swimming a distance equal to max width of the deep-water swimming area, jumping into the water and treading water for one minute, and exiting pool independently.
Admission shall be refused to all persons having any infections, disease, sore or inflamed eyes, colds, nasal/ear discharges, or any communicable disease of any kind. Persons with excessive sunburn or open sores, poison ivy or bandages of any kind will not be permitted.
All persons must take a shower before entering the pool.
All children in the wading pool MUST be supervised by an adult within the wading pool fenced area. There is NO LIFEGUARD ON DUTY IN THE WADING POOL AREA.
The pool may be closed at any time by the on-duty lifeguard or pool manager in case of inclement weather, breakdown of equipment or operational malfunctions.
Children who cannot swim must be accompanied by an adult in proper swim attire while in the pool/pool area. Flotation devices may be used at the discretion of the lifeguards, however an adult in proper attire must be within arms' reach of the child always.
ONLY DISPOSABLE SWIM DIAPERS will be allowed in either pool. Cloth diapers or training pants will be worn with plastic/rubber pants, swim panties.
The following are NOT permitted in the pool or pool area:
a. Hard sole shoes
b. Glass containers and breakable objects
c. Pets
d. Chewing gum
e. Tobacco Products
f. Intoxicated persons
I-Pods and MP-3 players with ear buds/ headphones only (no speakers), will be permitted. Exception is during private pool parties/events.
All persons must stay clear of life guard stations and not loiter at the check-in area.
No running, pushing, dunking, rough play, jumping, diving or profane language will be permitted in the pool/pool area.
All trash must be removed upon leaving pool area and put in the proper containers. Recycling containers are also available.
There is no diving into the water from the poolside. Feet first entries only.
The use of kickboards, tubes, balls, rafts, etc. will be regulated by the lifeguards based on the size and character of the crowd. The lifeguards will regulate all play and other equipment.
Spouting of water and similar non-hygienic actions are not permitted in the pool/pool area.
Standing or sitting on another's shoulders is not permitted.
LIABILITY
All persons using the pool do so at their own risk. The Homeowners Association (HOA) assumes no responsibility for any accident or injury, or for any loss or damage to personal property. Individuals using the pool area agree not to hold the HOA liable for any actions of whatever nature occurring within the pool area. All residents shall be responsible for the actions of their children and guests.
CONCERNS AND/OR SUGGESTIONS
Questions or concerns about the pool should be communicated to the on-site pool manager, pool committee or Association Manager.
SUSPENSION OF POOL PRIVILEGES
If a person fails to respond appropriately to lifeguards for infractions of pool rules, the lifeguard may ask the person to leave the pool area until the following day.
The Homeowners Association Board of Directors, on the recommendation of the lifeguard, may suspend individual pool privileges. The lifeguard will prepare a written report stating the name, date, time, restriction, and the violation, and provide to Pool Committee Chair no later than close of business on the day offense occurred. Pool Committee Chair will review and inform the Board of Directors, via email, of recommended suspension no later than the day following day of offense. The following actions will be taken:
1st offense – 1 day suspension
2nd offense – 5 days' suspension
3rd offense- Suspension for the remainder of the pool season
Appeals of suspension of privileges may be made in writing to the Board of Directors, via email, addressed to the President with a "cc" to all members of the Board. The Board of Directors will have 5 days to review and respond.