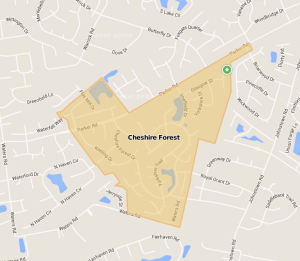 Welcome to the Cheshire Forest community. Our Homeowner's Association is made up of 508 homes that are located in the Great Bridge area of Chesapeake, VA. Established in 1987, Cheshire Forest was featured as the Homearama neighborhood by the Tidewater Builders Association in 1989. We have a beautiful, family friendly neighborhood with amenities that are sure to keep you and your family busy throughout the season. We're situated in an ideal location for driving to just about anywhere in the Hampton Roads area. It's an especially convenient location for military servicemembers based in Norfolk or Virginia Beach. Don't forget that the schools in our neighborhood are the highest rated in the community. Come see what our neighborhood has to offer!
Cheshire Chat –  Newsletter
The Cheshire Chat newsletter is distributed quarterly. Ann Dumenigo coordinates article submissions, editing, and layout advertisements. Contact her if you would like to submit information. Email: anndumenigo@yahoo.com.
Meet Your Neighbors Next Door
For those not familiar with Nextdoor, our neighborhood has been utilizing this private community social network for the last couple of years. It's an easy way for neighbors to talk online, share community information, ask questions, etc. Privacy is always a concern, and Nextdoor makes it safe to share online the kinds of things you'd be okay sharing with your neighbors in person. Every neighbor has to verify their address, everyone uses their own name, and the website is protected by password and encrypted by HTTPS. If you have further questions, or would like to join the website, contact Al Jacobs: anljacobs@cox.net

Facebook
Cheshire Forest has an unofficial Facebook group page where social events and discussion take place. Search for Cheshire Forest Neighbors.
Book Your Next Party or Event!
Need a little more space for your next event or party? Come take a look at the Clubhouse and consider making plans closer to home! Stop by the office during business hours and we will be glad to show you around. Rental fee is $200 with a $500 security deposit. Learn more by downloading the Clubhouse Reservation Agreement. Click on the Calendar of Events page to check availability.